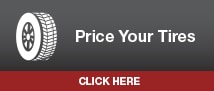 Of all the parts on your Toyota, the one that sees some of the worst wear is your tires. They are constantly rising up to the challenges of the road to give you smooth handling and a comfortable ride.
  Don't wait for the penny test, let Pappas Toyota service your tires today!
Tires are very important for the operation of your car. Aside from the obvious, tires have a huge impact on your Toyota's fuel efficiency and performance. Plus, balding or misaligned tires pose a safety hazard no matter what road conditions are like.  

With tires, it's better to be safe than sorry. Old tires are a serious safety hazard, and nobody likes to change a blown tire on the side of the road. Let the service experts at Pappas Toyota take care of your tires. We'll give you an exact match of your old tires and make sure they are balanced and inflated to the proper specifications for your vehicle.

Visit Pappas Toyota Today!

Don't wait! Get your tires serviced today by our certified professionals and you'll experience a world of difference in the ride of your car. Click the button to schedule your service, then head to Pappas Toyota now!